Donald Trump's namesake has landed the president in a world of Trouble
The revelation earlier this week that Donald Trump Jr. met with the Russians to discuss information that was damaging to Hillary Clinton. The information was claimed to be "part of Russia and its government's support for Mr. Trump."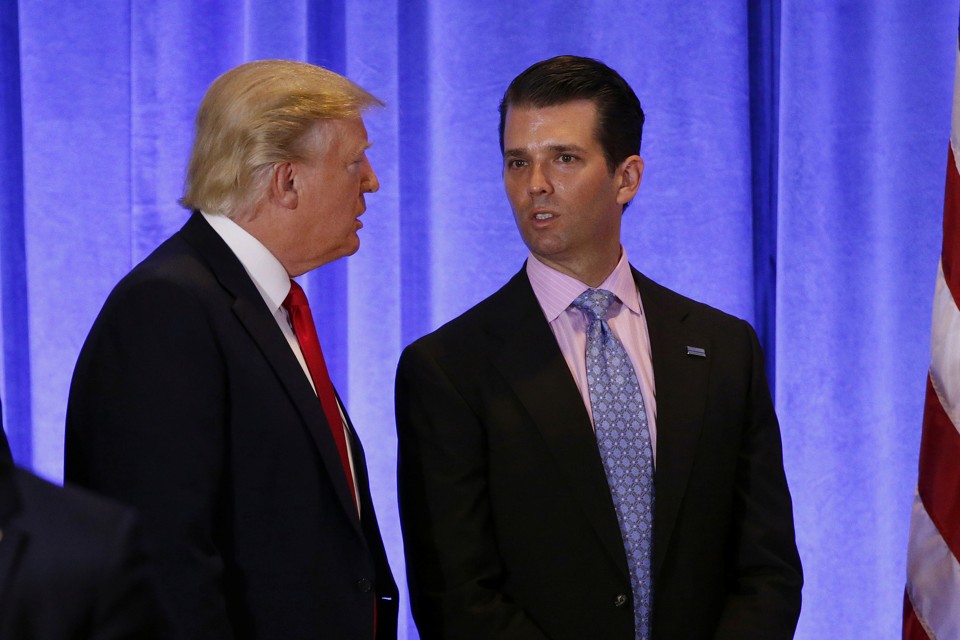 This first came out when the New York Times reported that the President's son met with a Kremlin linked Russian lawyer named Natalia Veselnitskaya during the 2016 election. Originally, Trump Jr. claimed that the meetings concerned adoption, rather than the Clinton campaign. However, the President's son later revised his statement, stating:
"After pleasantries were exchanged the woman stated that she had information that individuals connected to Russia were funding the Democratic National Committee and supporting Mrs. Clinton. Her statements were vague, ambiguous and made no sense. No details or supporting information was provided or even offered. It quickly became clear that she had no meaningful information."
Trump Jr. then claimed that the conversation changed to adoption, stating: "It became clear to me that this was the true agenda all along and that the claims of potentially helpful information were a pretext for the meeting,"
It was then disclosed that the email to Trump Jr. from Rob Goldstone said about the contents of the meeting:
"This is obviously very high level and sensitive information but is part of Russia and its government's support for Mr. Trump."
Although Goldstone described Veselnitskaya as "a Russian government lawyer."
The kremlin denied all association with Veselnitskaya, as has Veselnitskaya herself.
Was the meeting illegal? According to the Washington Post's David A. Fahrenthold, not necessarily. He stated: "What Trump Jr. was offered might be considered a 'thing of value,' if the information he was seeking had cost someone money to produce — or if it was something that a campaign might have paid for."
Given that Trump Jr. seems to have received nothing from the meeting, it seems unlikely that charges will be leveled against him.
However, this recent revelation is just one among many clouds within the growing Russian scandal, a controversy that has continued to be the focus of Trump's time in office.
The scandal begin with Michael Flynn, who served for a brief time as national security before resigning after links to Russia surfaced. It then turned to Trump's firing of FBI Director Comey, an action the president described as connected to the ongoing Russian investigation. Trump also told classified information to the Russians during a meeting, seemingly on a whim. Currently, Robert Mueller leads a special investigation into the ties between Trump and Russia, a web that continues to unfold.
https://www.washingtonpost.com/news/post-politics/wp/2017/07/13/what-exactly-is-going-on-with-donald-trump-jr/?utm_term=.b0974bc2b592