Social media image sizes to optimize your social presence
Social media users are increasing day by day. And to provide a better user experience the social sites releases new updates frequently. Social media image sizes are also the part of these updates but it's not easy to always up-to-date from the new release.
It's really imperative For businesses, marketers, and all of us to optimize our personal and business' social media profiles with the right image sizes to stand out from the crowd. Today I'm going to share image dimensions for all important social media sites. Let's continue:
What is Social media Image sizes or dimension?
From webopedia
"Image dimensions are the length and width of a digital image. It is usually measured in pixels, but some graphics programs allow you to view and work with your image in the equivalent inches or centimeters. Depending on what you plan to use your image for you may want to change the image size. For example, if you are using a high-resolution digital photograph, you may want to make the image dimensions smaller for publishing to a Web page."
Why should you take image size into consideration?
I would caution against uploading oversized images to social sites. They use aggressive image compression that often leaves your images blurry. If you can upload a great image and reduce the image sizes with a service before uploading it, you'll get much crisper results!
In general, here are the best social media image sizes for sharing on any popular network.
Social media Image sizes tips and updates
Recent Updates
Pinterest board cover size reduced.
Pinterest profile picture enlarged.
LinkedIn company pages redesigned.
Facebook Cover Photo size has wided.
Pinterest pin height shown in the mobile feed will be cut off if taller than 2.8 times height.
Basic images of every social site:
The basic thing that you need to remember when choosing your photos, there is a difference between how things will display on your personal timeline and how things will display in a user's newsfeed.
Make sure that you are choosing dimensions based on where you want the majority of viewers to see your image.
There're following popular social sites and the pictures we basically used. Let's start:
Cover photo:  your cover photo should represent you or your business in the correct sense.
 Profile picture:
Your profile photo is the main image that represents you or your brand across the network.
It will be seen on your page, on posts where you comment, on the timelines of others where you post messages so make sure it's of the highest quality.
In short, it represents you at most places on the largest social networking platforms.
Shared Image:
You can engage your friends or business followers in meaningful conversations by sharing useful images on your Facebook timeline.
These will appear in the news feeds of your friends and followers.
Now let's take a tour of various social media image sizes with some pro tips:
Facebook 
Facebook is largest social media site with over 1.44 billion monthly active users.
One Image is sufficient to attract peoples to make your daily buyer or loss big audience. That's why you must careful in choosing your profile picture, cover background, update images, and other all photos.
Recommended: Workplace by facebook features 
Twitter 
The social media bird has 302 million monthly active viewers with sending 500 million tweets per day .
Twitter is most often used to discuss your brand and spread your business with their huge audience.
Twitter said images would no longer be cropped to a horizontal in the stream, but seen in full, up to a square. Either go with twice as wide as tall (optimal) or stick with a square for portability across social media networks.
Google+
Google+ is a perfect site to show your work to the peoples worldwide with easy way.  No matters you're belonging from what place and which profession. Simply create a collection of your work and share with other users.
With this, you can also join your industry or business related community to share your views and know others.
It's not only important just because of the social aspect, but also due to the fact that your Google+ account is also tied to the Google search engines itself. Therefore, when anyone will search your business on Google, it picks your Google+ account information, including your profile picture and recent posts.
Instagram
With over 100 million users, it is one of the most popular photos and short videos sharing social network.
Now, The Instagram photo format is no longer limited to the square! Landscape and portrait format are available for both photo and video posts.
You can share photos and videos with aspect ratios between 1.91:1 and 4:5.
Image Guidelines:
Your profile picture is appear on your homepage at 110 x 110 pixels. 
The optimal sizes are 1080 x 566 up to 1080 x 1350 pixels. 
Here you need to take special care with the image quality because limited text content is shared on this platform. It is more about the pictures and visuals!
Instagram profile bio : 150 characters max.
Image caption : 2200 characters max.
Also Read:
How to check fake Instagram accounts or likes?
How to use new Instagram shopping feature
Tips and tricks to manage multiple Instagram accounts at once?
Pinterest 
Pinterest is an amazing social tool for driving referral traffic to your site. This is mostly due to the fact that 90% of Pinterest pages are external links.
So it's very important for you to make sure you're optimizing your Pinterest page regularly and using proper image sizes for your boards and pins.
Youtube 
Spice up your YouTube channel with some "channel script". When users click through your YouTube videos to your channel, some appealing images could pull them to stay on your page longer and watch more your videos and subscribe channels.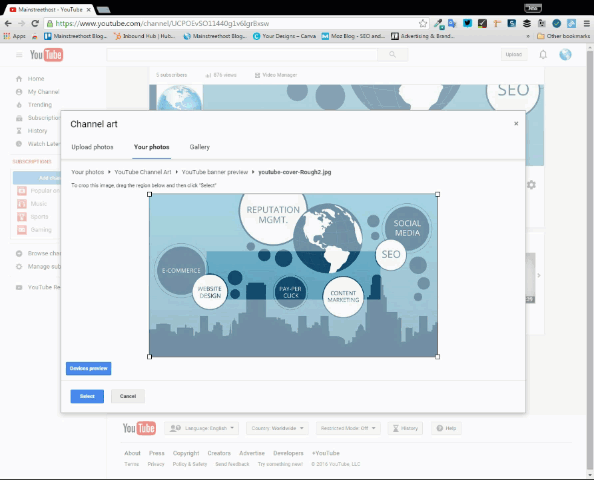 Across Different Devices
There are a lot of different platforms and devices that users can stream YouTube on so it's important that your brand has a photo optimized for each one.
Display Sizes
Tablet display: 1,855 x 423
Mobile display: 1,546 x 423
TV display: 2,560 x 1,440
Desktop: 2,560 x 423 (1,546 x 423 pixels are always visible);Flexible Area (may be visible): 507 pixels to the left and 507 pixels to the right of the safe area.
Videos can tell viewers something about you as a person, or it could show off something that your business might offer.
LinkedIn
LinkedIn is the world's largest professional network with over 64 million users.
It works as a great driver of traffic and customers,  LinkedIn is a perfect source to hire employees for your business and to connect with other industry leaders.
So, you should make sure that all your images are embedded with text to add more contexts.
Also, make sure that you use creativity to showcase the most relevant things about your business and brand in the banner image as well as in your cover image. 
Tumblr
Tumblr is a blogging and social platform where users share thoughts, quotes, music, articles, GIFs, videos, images – basically anything. Images are (of course) an important aspect of this social network, but the text-based content is associated with Tumblr as well.
Images are (of course) an important aspect of this social network, but the text-based content is associated with Tumblr as well.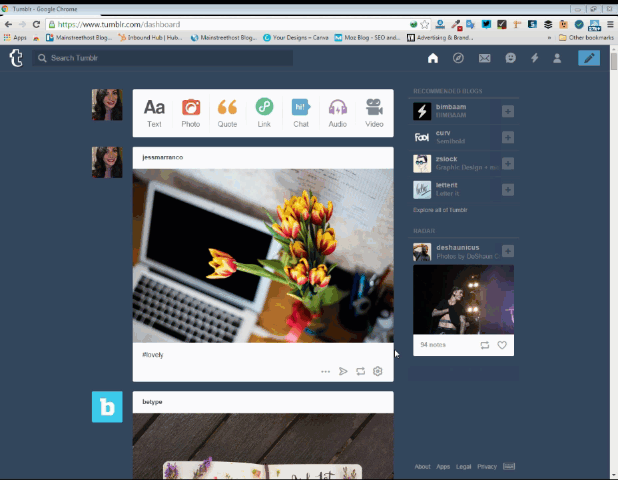 Tumblr is a customizable social site and each theme is so different , that lets users effortlessly share anything that they want.
Due to the fact that almost everything is shareable, it isn't hard to imagine that there are currently over 235 million blogs that have shake out more than 110 billion posts.
Last words
Along with the mobile revolution, the demand for social networking has probably taken the world by storm! Whether for a brand or a personal profile, there is a growing need to stay active on social media sites.
You are probably reading about social media image sizes because you are looking for ways to optimize your social media presence. But, with so many social media platforms, how do you remember the various image size optimization guidelines?
A cool tip is to bookmark this blog post and Please leave a comment if any need to be corrected. I'll update as quickly as possible!